about daughters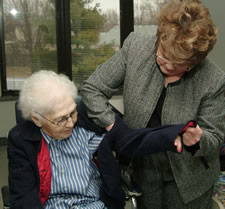 Staff Daughters serve enrolled clients in their own homes; in retirement settings and in long-term care families. They fill in the gaps as they work with clients and their adult children to provide a seamless plan to support and maintain the quality of life for their loved one.
Daughters & Company® is plugged into the aging circuit and is knowledgeable about available resources and options in the community. We offer recommendations whenever it is appropriate. Staff Daughters communicate regularly with family members and trusted advisors to keep them abreast of changing situations.
Personal Assistance
Companionship
Health Care Coordination
Transportation
Property Management
Financial Supervision, Bill Paying
Hospice Family Support
Management of Care Services
our mission
Daughters & Company® is dedicated to continued quality of life for older adults. We strive to support and maintain their lifestyles with understanding and compassion, respecting their rights and abilities as well as their changing needs.